JAPAN YUM BOX FEBRUARY 2016
Last week, I received Japan Yum's Febru
ary snack box. Japan Yum is a Japanese snack subscription company. Since they work directly with Japanese candy suppliers and store their candies in a US facility, as a result subscribers can receive a great selection of snacks easier and quicker.
Their box is petite and light, but the selection of candies are just the ones that I like. Let's check out what kind of snack they offer in February! :)
Shipping box = snack box
First off, the shipping box IS the snack box! Once you open the box, you will see a red wrapping paper with a "thank you" sticker. Everything is very straight forward and convenient.
There's a list of snack for this month's snack box. Instead of making it a separated flyer or brochure, it is attached on top of box. Not only you will see it once you open the box, you will never lose this "snack guide." I think it's a pretty smart way of solving different problems on the consumer side.
Snack list with detailed descriptions
From just a glance, I already found one of my favorite Japanese snack brands, Meiji. Their Ichigo no Apollo chocolate candy is one of my childhood favorites. Back then, it was only a strawberry flavored chocolate, now the new version has different filling. For this particular one I receive, it has strawberry syrup inside. It tastes just like how the photo below looks like, yummy and rich.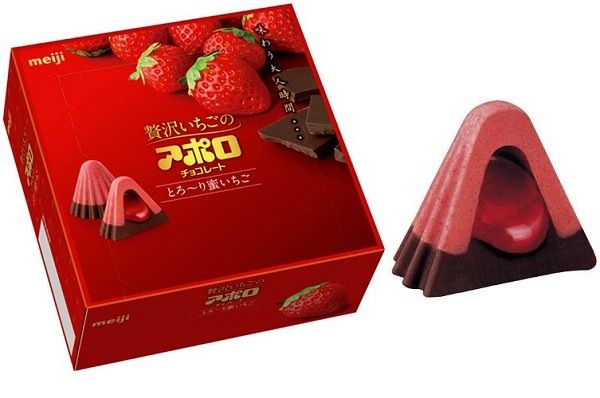 Meiji - Ichigo no Apollo (Strawberry chocolate with strawberry syrup inside) - Image by blogimg.jp (Commercial photo)
Meiji's Meltyblend chocolate is also one of my favorite Japanese chocolate snack. Meiji always has really pretty and sophisticated packaging. Their Meltyblend is a square chocolate that "semi-melt" in your mouth. Here, the flavor we get is "Royal Milk Tea."
It is "Winter Limited Edition. " The chocolate is rich and creamy.
Original Box for Meiji's

Meltyblend chocolate, "Winter Limited Edition" Royal Milk Tea Flavor

(Commercial photo)
Meiji's
Meltyblend chocolate, "Winter Limited Edition" Royal Milk Tea Flavor
Meiji Grape Vine Gummies
Another snack I want to introduce is Marukawa's bubble gum. They always come in an assorted variety pack, which I love them all! The confectionery company has quite a long history: the company was found in 1888 and started manufacturing bubble gum in 1948. They were the only Japanese bubble gum I knew during my childhood... :P
We are so similar with the red packaged Pocky, but their new Panda cookies n cream is so too cute to eat!
A Gudetama sticker is also found in the snack box! (Gudetama is Sanrio's latest character from 2013!) This is what I like about snack box, they sometimes include toys, poster, sticker, or other exciting gift for you. :D
Gudetama sticker
Ready to Subscribe?
If you are interested in trying out Japan Yum, please don't forget to use coupon code "
JFOODIE
" to get a $3 OFF for your subscription!
What I realized is that they sold out their boxes really quick. Check out their status now at:
https://japanyum.com/subscribe
If their box happens to be sold out when you visit, just sign up for their waiting list. You can also check out their favorite brands and Past Box at:
https://japanyum.com/boxes
Japan Yum
Official Website: https://japanyum.com/
Facebook: https://www.facebook.com/japanyum
Twitter: https://twitter.com/japanyum
Instagram: https://www.instagram.com/japanyum/